For our 25th Roundup Nationals, the MCCI will visit the Commonwealth of Virginia…Lynchburg to be exact.  The host hotel for 2018 is the Kirkley Hotel & Conference Center.  Located centrally in Lynchburg, the Kirkley provides business and leisure guests a comfortable, stylish place to stay in town.  They are proud to be one of the only independent hotels in Lynchburg.  All the interiors, and much of the room furnishings, are custom designed using quality materials and restful tones.  The rooms feature luxury bed linens and towels.  The Great Room Restaurant is known locally as one of the best restaurants in Lynchburg, serving farm-to-table cuisine paired with local craft beer and Virginia wine.  The Kirkley is close to everything fun in Lynchburg including Liberty University, and wonderful places to eat and shop.
Tuesday, July 24, 2018:  Early, Early Arrival Day
Leave hotel at 1:00pm.  Cruise to Natural Bridge State Park, 6477 South Lee Highway, Natural Bridge, VA  24578.  Natural Bridge is one of the 7 Natural Wonders of the World. Once owned by Thomas Jefferson and listed on the National Register of Historic Places, the 215-foot tall Natural Bridge is a limestone gorge carved out by Cedar Creek. The newest Virginia State Park is more than just the bridge. Beautiful forests, open, rolling meadows showcase the area's karst terrain, and vistas of surrounding mountains and the James River valley display nature's splendor.  Admission per person is $8 for those 13 and older and $6 for ages 6-12.  36 miles from hotel, 55 minute beautiful scenic drive through the mountains.
http://www.dcr.virginia.gov/state-parks/natural-bridge#general_information
Wednesday, July 25, 2018:  Early Arrival Day & Day Cruise
Leave hotel at 1:00pm.  Cruise to Thomas Jefferson's Poplar Forest, 687 Poplar Forest Drive, Forest, VA  24551.  This is Thomas Jefferson's personal retreat home.  One can find award-winning, thought-provoking and meticulous historical restoration, both inside and outside the walls of Jefferson's house, through archaeological discoveries and research that continues to uncover new knowledge about Thomas Jefferson and the free and enslaved people who formed the community at Poplar Forest.   Adults:  $16, Seniors (65+) or Military: $14, Teens (12-18 and College Students): $8.00, Youth (6-11): $4.00,  Under 6: FREE,  D-Day Combo Ticket: $19.00.  6.7 miles from hotel, 11 minute drive.  1:30pm tour start time.
Thursday, July 26, 2018:  Family Day & Day Cruise #1
Leave hotel at 12:30pm.  Cruise to National D-Day Memorial, 3 Overlord Circle, Bedford, VA  24523.  The National D-Day Memorial serves as the national memorial for American D-Day veterans.  Located in Bedford, VA, as they sustained the highest per capita D-Day losses in the nation. The nine acre memorial features an English garden, invasion tableau and victory arch symbolically recreating the D-Day journey from planning to battle to victory.  Guided walking tours (included in the admission price) are scheduled between 10 AM – 4 PM and are approximately 50 minutes in length.   Admission Rates: $10.00 adults, $8.00 veterans and active military, $6.00 children (ages 6-18) or with valid college ID, children under 6 are FREE. 25.7 miles from hotel, 33 minute drive.  1:30pm tour start time
Friday, July 27, 2018:  Family Day & Day Cruise #2
Leave hotel at 12:30pm.  Cruise to Appomattox Court House, 111 National Park Drive, Appomattox, VA  24522. .  On April 9, 1865, the surrender of the Army of Northern Virginia in the McLean House in the village of Appomattox Court House, Virginia signaled the end of the nation's largest war. Two important questions about its future were answered. Could the nation survive a civil war intact, and would that nation exist without slavery? The answer to both was yes and a new nation was born. Guided tour.  No admission fee.  25.5 miles from hotel, 29 minute drive.  1:30pm tour start time.    https://www.nps.gov/apco/index.htm
8:00pm      Annual MCCI Club Meeting in MCCI hotel conference room.
Saturday, July 28, 2018:  Show Day
9:00 AM – Noon:      Registration
Noon – 2:00 PM:      Judging
3:00 PM:       Awards Ceremony in MCCI conference room.
Sunday, July 29, 2018:   Departure Day
…or stick around and check out what the Lynchburg area has to offer!!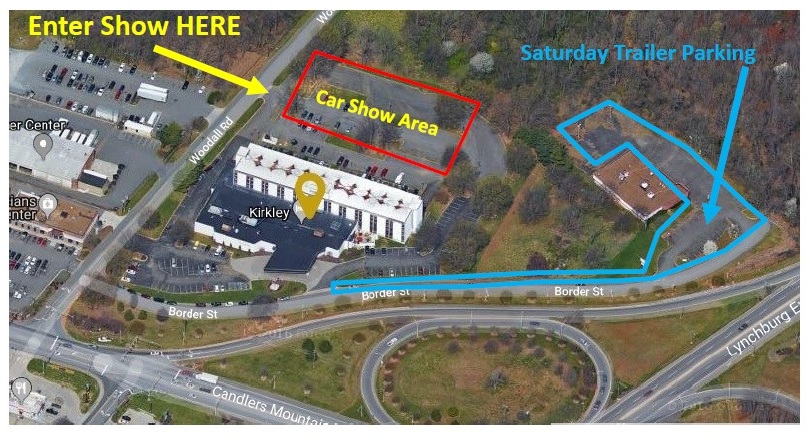 HOST HOTEL: Kirkley Hotel & Conference Center 2900 Candlers Mountain Road, Lynchburg, Virginia 24502
Hotel Website: www.KirkleyHotel.com
Phone: 434-237-6333                Use reference: Group Code MCC072418
Hotel website is going through some changes as they convert their website over to Wyndham's template, since they are now a Wyndham flag hotel.  Online reservations can NOT be made and get the MCCI Member discount.  To get the MCCI member discount, call the hotel directly using the phone number above.
Standard Room: $109.99 per night plus tax. Rooms are either two double beds, or a King bed.
A breakfast buffet will be available for $9.95 adult, Children 3-12 $4.95. A full service menu will also be available.
Hosted by MCCI members for MCCI members.
Absolutely NO Alcohol in the show area at any time.