After a 17 year absence, the MCCI returns to Ohio, the host state of the first 7 Roundup Nationals. The new location for our 24th Annual Roundup Nationals: Dayton, Ohio. After a record setting turnout in 2016….we are expecting a HUGE turnout in 2017.
Tuesday, July 18, 2017    Early, Early Arrival Day: British Transportation Museum, 321 Hopeland St, Dayton, Ohio 45417. Leave hotel at 2:30pm and head over to the British Transportation Museum. Since 2000, it is the only exclusively British museum of its kind in the entire United States. Cost: Donation.
https://www.facebook.com/The-British-Transportation-Museum-110562315646139/
Wednesday, July 19, 2017   Early Arrival Day and Day Cruise:  America's Packard Museum,  420 S. Ludlow St., Dayton, OH 45402.  Leave hotel parking lot at 1:00pm  and drive over to the world's only restored Packard Dealership operating as a museum, and only full-time museum dedicated exclusively to the Packard Motor Car Company, its products and philosophies.  It houses the largest collection of Packard automobiles and memorabilia in the world. Adults $6  Seniors $5
Thursday, July 20, 2017  Family Day and Day Cruise #1:  Carillon Historical Park, 1000 Carillon Boulevard, Dayton, OH 45409.  Leave hotel at 11:00am for one mile drive.  Carillon Historical Park is a beautiful 65-acre campus that is home to over 30 historic structures and cares for over three million artifacts.  With a hand-carved carousel, 4-D theatre, trains, slides, living history experiences, thousands of artifacts, extensive educational programming, and so much more, Carillon Historical Park brings Dayton's past to life in a way that is fun for the whole family!  Lunch available on site.     Adults $8   Seniors $7  Children 3-17  $5
Friday, July 21, 2017  Family Day and Day Cruise #2:  National Museum of the U.S. Air Force, 1100 Spaatz Street, Wright-Patterson AFB OH 45433. Leave hotel parking lot at 11:00am.  The National Museum of the United States Air Force is the official museum of the United States Air Force, located at Wright-Patterson Air Force Base, 6 miles northeast of Dayton, Ohio.  Lunch available on site.  Admission: Free
8:00pm         MCCI Annual Meeting.  Patterson Room at the Host Hotel.
Saturday, July 22, 2017  Show Day (Host Hotel parking lot)
9:00 AM – Noon: Registration
Noon – 2:00 PM: Judging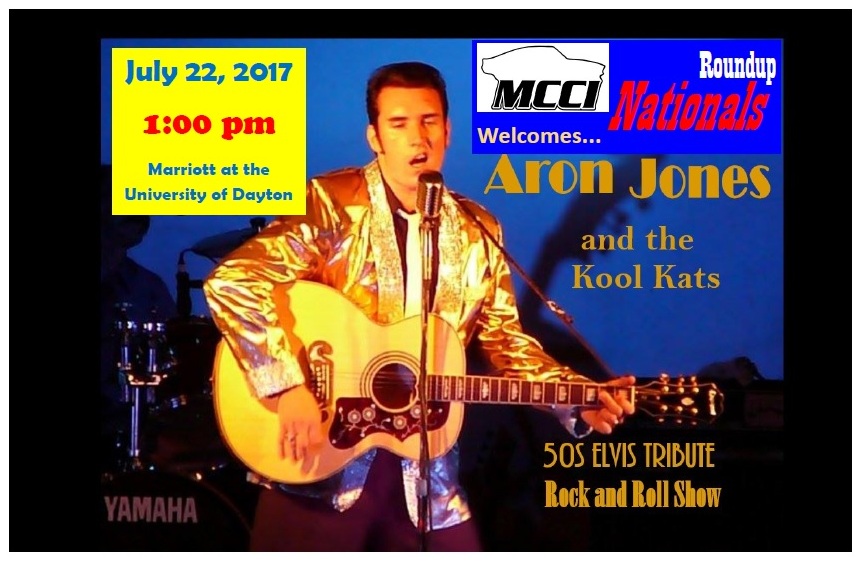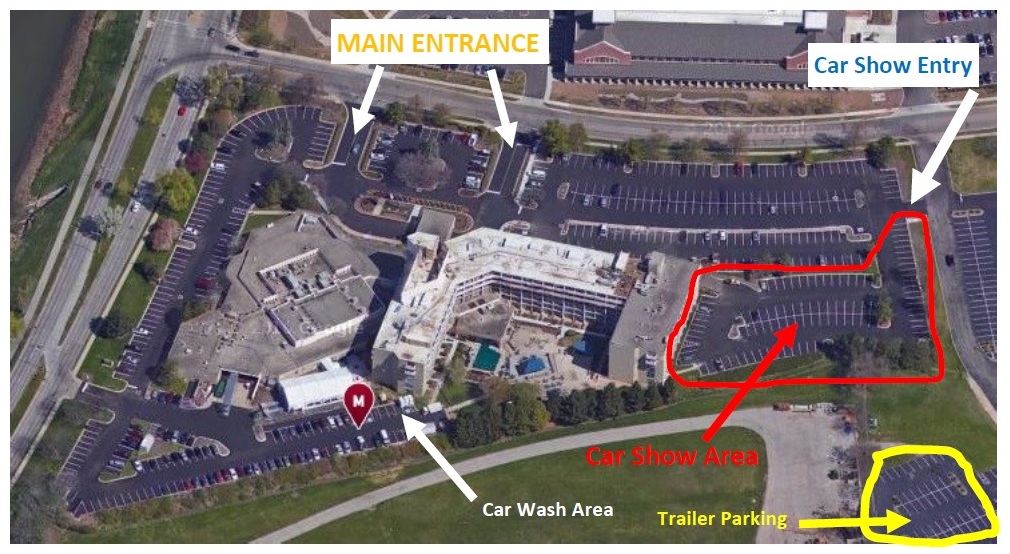 3:00 PM: Awards Ceremony in MCCI conference room.
Saturday evening is free to do as you please. As always, there are plenty of good times to be had in the usual manner of hanging around in the hotel parking lot.
Sunday, July 23, 2017  Departure Day
…or stick around and check out what the Dayton area has to offer!!
The host hotel for 2017: Marriott at the University of Dayton. Just off I-75, situated on University of Dayton campus, only two miles from downtown Dayton. Marriott at the University of Dayton is well known for their unwavering commitment to the exceptional service you deserve. Poised on a park-like setting on the University of Dayton campus, the Marriott at the University of Dayton is moments from downtown and major corporate and government facilities. Discover amenities such as FREE and upgrade-able Wi-Fi, a relaxing indoor/outdoor pool, and a fitness center. Let their acclaimed chef entertain your taste buds with locally sourced ingredients at Parmizzano's restaurant, and enjoy a local brew or other favorite beverage at Gambits Lounge. The hotel will have a car wash station complete with soaps, rags and towels. The hotel will set up and grill hamburgers and hot dogs on show day. Guests can get a burger/dog, chips and a drink for about $6. Refrigerators in all rooms.
HOST HOTEL: Marriott at the University of Dayton 1414 South Patterson Boulevard Dayton, Ohio 45409
Hotel Website: http://www.marriott.com/hotels/travel/dayoh-marriott-at-the-university-of-dayton
Phone: 937-223-1000 Use reference: MCCI Roundup Nationals 2017
Or use this Direct Link to book rooms (Direct link is also posted below in a "clickable" link): http://www.marriott.com/meeting-event-hotels/group-corporate-travel/groupCorp.mi?resLinkData=MCCI%20(Maverick-%20Comet%20Club%20International)%20Roundup%20Nationals%202017%5Edayoh%60mcimcia%60102.00%60USD%60false%606%607/17/17%607/23/17%6006/17/17&app=resvlink&stop_mobi=yes
Standard Room: $102 per night plus tax Rooms are either two queen beds, or a king bed with a pull out sofa bed.
A breakfast buffet will be available for $16.00 per person. A full service menu will also be available.
Hosted by MCCI Members for MCCI Members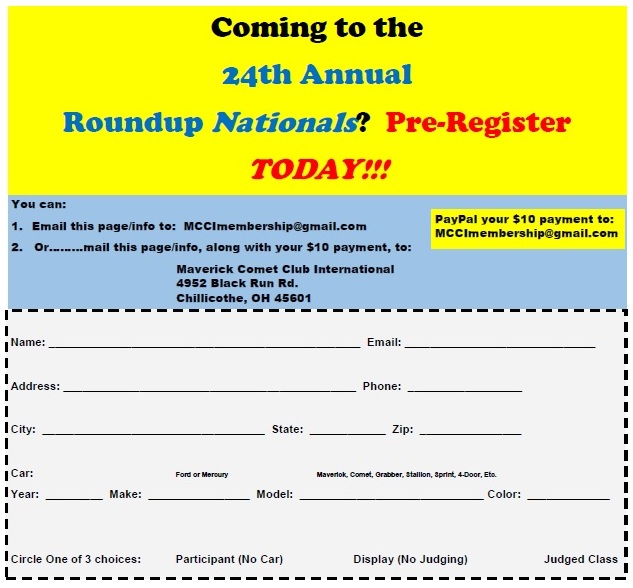 2017 Pre-Registration